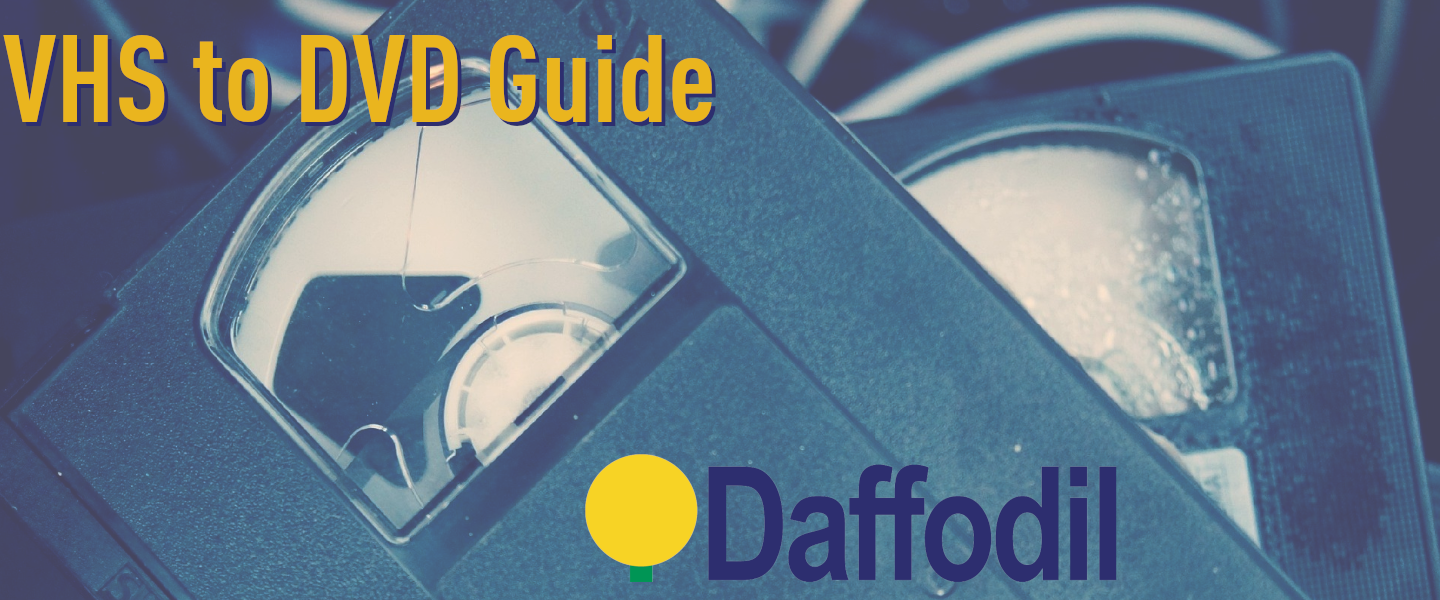 Converting VCR to DVD with VGB350
| Reuben Howe
Camcorder footage, recorded Live events, school plays and family holidays can all be found tucked away on our VHS collection. But tapes fade (Quite literally, when exposed to too much light over many years) and deteriorate leaving the precious memories and home videos lost forever.
A VCR to DVD converter lets you "Digitise" footage. Digitisation is the term given to taking an Analogue format (Tape, a physical photograph, slides, a written book) and turning it into a digital format (MP4 Video, JPEG Images, a Word / PDF Document). Turning VHS tapes to DVD is the best way to digitise your collection while keeping a physical backup.
Using the most accessible video capture cards on the market and all-in-one editing software, this guide will explain how to actually get your footage from your original tapes onto a DVD!
Part 1 - Check your Current Analogue Footage
Before you go off and buy a VCR to DVD transfer kit, take a good look at your footage. More specifically, if it's on VHS, look at the ports on your VHS Player or VCR. Most commonly you will see a Composite RCA Cables output. This is a bank of a yellow, white and red cable.
If you see this type of connection, you can get a VHS to Digital converter right away! If not, ensure you identify the type of output and buy a video cable adapter that leads to Composite.
Part 2 - Check You have a PC with a USB Port and Disc Drive
Before starting, you will need a PC or Laptop with USB ports, and disc drive.
The USB Port will connect your PC straight into your VHS player, and the Disc Drive will hold a blank disc to burn your digitised media on to.
Part 3 - Buy a VHS to DVD Conversion Kit
There are a few options to convert your tapes, as there are multiple conversion USBs available. The range of VGB products are all able to record footage into digital files, but the VGB100 and VGB350 allow burning a disc directly after editing. The VGB300, however, only allows recording and digitising. You would have to burn the disc yourself!
So, that leaves the VGB100 and VGB350. For the purposes of this guide, we recommend the VGB350, it uses the latest software and facilitates straight-to-DVD conversion. Not to mention, it's compatible with Mac OS. You can convert your VHS on Windows, Linux and now Mac!
Part 4 - VGB350 Installation
Once your Conversion Kit arrives, you'll plug in the USB end to your PC. The whole device is not much larger than a standard storage USB stick!
Once plugged in, you can download the drivers and software from the manufacturer website here. August (The manufacturer) will also provide direct links if you contact customer support (We know from when we set up our own!)
We have an Install Guide on the VGB350 product page for the drivers and software. You can find it under the FAQ & User Manual tab.
Part 5 - Honestech VHS to DVD 5.0
The software, this is the decider. There are multiple ways to capture video and display it digitally, but where the Honestech software excels is converting VHS, recording, digitisation, editing and DVD burn all in one process.
You plug in the composite cable of the VHS Player, with the tape inserted, into the VGB350. The footage them enters the PC through the USB port, and appears inside the software window.
Now, you can press play on the VCR to record the VHS in real time(Provided you have enough storage space!). Using the recording profile for high-quality DVD can transform ragged tape footage into smooth and colour-enhanced DVD.
Once a recording is made the software lets you edit more video files in from different VHS's, add transitions, insert text and finalise the whole video. As soon as your perfect nostalgia trip, school-years documentation or wedding cam album is done you can burn directly onto a blank disc.
Part 6 - Burning a Disc
The act of burning a disc might sound counter-productive to preserving footage, but it's just a technical term! To "burn" a disc means to put data on it, which is exactly what we want to do.
If you do not have a blank disc capable of holding video you can find them cheaply online or format your own.
Once the disc is inserted you can use the built-in Honestech DVD Burner straight from the editor! Be sure to select the right format for the image quality you'd like, and take into account the larger file sizes will look better but take more space.
Part 7 - Make copies, Share, Enjoy!
The best part of the process is the end result! A DVD fully edited together with text, music, background and more ready to hand out either as a digital file on Facebook or Email, or as a physical disc that will hold that footage indefinitely.
Perfect as a way to make wedding gifts, birthday presents and more. You can even play in DVD Players at the event through a projector!
The whole process is facilitated through your current kit, a simple USB converter and one piece of software! There's really no reason not to convert your footage and save as much as possible! VHS deterioration is a sad thing, but you can avoid the effects (And make a killer edited video in the process) with just a laptop and a USB Stick.
Let us know how you get on, and view our brand-new accessibility feature Interactive How-To Guides on the FAQ& User Manual tab of the VGB product you choose! For any extra help please call our customer support and we'll help set up the software for you.