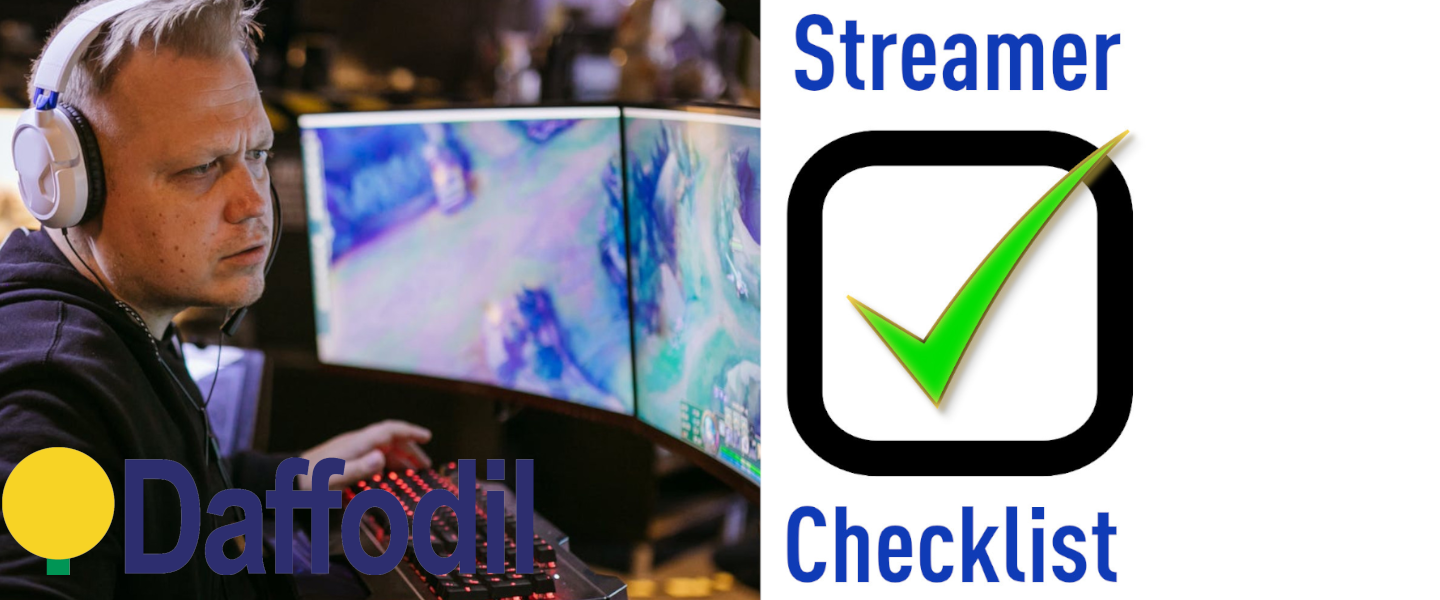 First-Time Streamers Checklist 2023
| Reuben Howe
There was a time when streaming was a technical mess, and needed no small amount of coding, hardware knowledge and luck! Luckily August are making accessible, plug-and-play tech that can get you set up and streaming in no time.
First Streaming Set Up Checklist
To start streaming you'll need a few key bits of hardware, and one piece of software (Along with some plugins and addons). Make sure you account for all of these before starting up a stream!
Hardware -
PC / Laptop / Tablet / Phone
Microphone
Headset / Headphones
A Capture Card (Optional)
A Camera (Optional)
Software and Programs -
OBS Open Source Broadcasting
A Twitch or other streaming site account
Streamlabs or other stream management account (Optional)
Look to any section you're missing and fill in the gaps with some quality August tech, accessible and reasonably priced to perfectly suit beginners!
Starting Simple - A Device To Stream From
Unsurprisingly the most important item on the list, but one you almost certainly already have if you're reading this, is a device to stream from. This can be a desktop gaming PC or your standard personal smartphone, so long as it can run the software you need!
Most of the audio work, recording and even visuals will be outsourced to some external equipment, so don't worry if your PC is a little potato. Your stream will be limited in Bitrate and quality at the very beginning anyway, so everyone starts on the same playing field.
Moving Up - The Microphone
What is it? A Way To Record Your Voice and IRL Audio
How Does It Work? Connect a 3.5mm, 2 x RCA or USB cable right into your streaming device
Your streaming mic is possibly one of the most important parts of your set-up. Unless your content is mostly visual (Time-lapse streams of nature, art streams etc) then your voice is going to be the first thing viewers listen out for. You want your voice to be clear, audible and most importantly authentic.
The best way to get an authentic audio experience is a decent mic with professional attachments and a non-standard polar pattern. This is just a How-To, so read more here about mics.
Overall, make sure you have a pop-filter, windshield, shock mount and cardioid patten condenser microphone.
Headset / Headphones
What is it? A Way To Get Private Audio and Not Disturb the Stream
How Does it Work? Connect via Bluetooth or 3.5mm into your Audio Source (Usually also your streaming device)
Since audio is such a huge part of the viewer experience, with many viewers having streams open on a second monitor or in the background, you want to make it as crisp as possible. Using in-built monitor or phone speakers for your audio can make crunchy, echo-filled recordings that you yourself can't enjoy in the moment either!
Using a headset or pair of headphones ensures your audio is directed right at you, and your stream only hears what you intend. Even better, pick up a pair with ENC noise reduction that cancels-out background noises.
A Capture Card
What is it? A  device that captures audio-visual data from a console and transfers it to a PC or Laptop
How Does it Work? The card will have multiple HDMI and even 3.5mm audio passthrough inputs that connect your console, streaming pc and more in one network
If you plan to stream console games and don't want to use the in-built streaming methods provided by Sony or Microsoft, you can use a Capture Card. A Capture Card will take the audio-visual feed from the console that would normally go to your TV / Monitor and carries it as a live recording straight into your streaming set-up.
The wired connection means the transfer is lossless and instant. What this enables is for you to stream from your PC with your usual monitor, webpages, apps, addons and plugins and still be streaming XBOX or PlayStation games. You don't need a PC that can run the games, just take the capture card data!
This is a lifesaver for console gamers who want a streaming PC without busting the bank on the latest graphics cards and rigs.
A Camera / Video Capture
A final piece of hardware is, of course, the camera. But, a cam isn't as necessary as you might have first thought...
Many streamers either began without a cam, only use a facecam on rare occasions or never started in the first place! Creators often do "Face Reveals" and the only reason they got to that point is the lack of camera use in their past content. There is no shame in streaming without a cam at all!
If you choose to use a cam then ensure you can capture HD, 1080p. Not only will this be preserved through a capture device (A DSLR works in this way) but HD footage gives you the freedom to have a Fullscreen IRL cam when needed without losing quality.
Installing Hardware
Capture cards like the VGB500 and microphones like the MCP200 or REC100 are "Plug and Play" which means the drivers and recording software are pre-installed as soon as you plug them in. This means you can focus on software, without having to download hardware drivers.
Getting A Streaming Account
Once you have all the hardware sorted, it's time to get an account and the software you need. You can go to Twitch.tv and make an account for free, or even import over your Amazon Prime account to Twitch without any fuss.
This enables you access to a Stream Key which you will need for OBS.
Software Downloads
The only software you need to put all these new devices to use together is called OBS. OBS is an Open-Source Broadcast Software that allows video, audio and capture devices as well as editing, images, pre-recorded footage and more.
Head on to the download page or install the OBS Studio app on mobile and you can add all your new kit as devices.
Adding Devices in OBS
For our quick-start guide to OBS Click Here!
Extra Stream Software and Plugins
For those wanting to go the extra mile and make custom content for subscriptions, bits, alerts and emotes you can link your account to services like these:
BTTV and 7TV - Twitch emote extensions that allow extra emotes in chat, extended emote limits, and channel-specific emotes
Streamlabs - Allows greater control over your auto-mod, giveaways, resubs and more