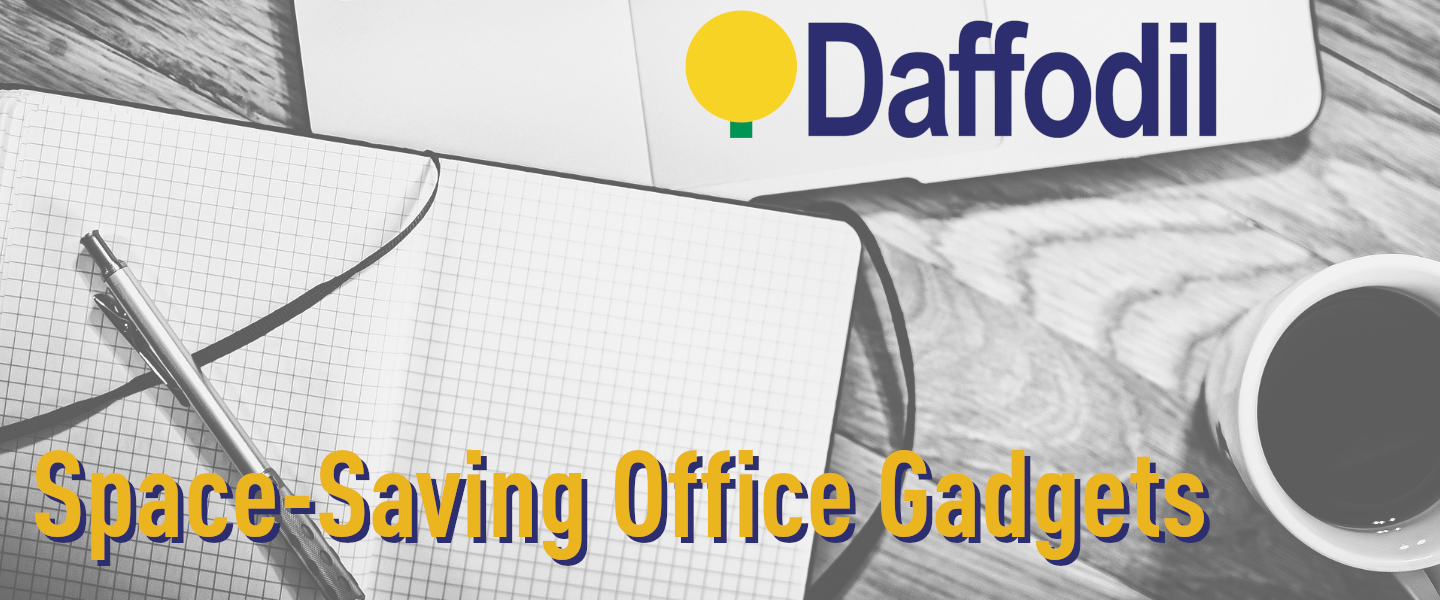 The Best Space-Saving Office Desk Gadgets
| Reuben Howe
A busy office is a haven to some, an inspiration to others, and to many it's a nightmare! Keeping your own space while having access to all the personal and professional info you need in the moment is something we all appreciate in the Daffodil office, and it's not unlike us to get a product of our own to help!
Here are the top 7 pics in our office space that make days easier to manage, problems easier to solve and give that touch of customisation we all need in our workplaces.
1. Desk Mobile Phone Stand
A vertical-standing compact phone stand is our first pick for gadgets that simplify and organise your workspace. The thing itself is minimalist and tiny, but engineered with sturdy surface area to ensure your phone stays upright. A phone holder for desk means a little extra space, as the device uses verticality to avoid getting buried under paperwork.
Being able to flick some messages / Google some clarifications without having to dig into a pocket or pick your phone up from a flat surface is a bonus, and streamlines a lot of processes we follow ritualistically every day without thinking. Once your desktop phone stand has propped your phone up at the right angle, the correct distance from you, you can make use of the new desk space and never look back!
2. Compact Phone / Projector Tripod
A mini tripod for phone is a step-up from a simple phone holder, and helps keep your smaller screen at the right angle in the right place, like a tiny 3rd monitor for your workstation.
The added benefit of a tripod is the versatility. This one includes a screw mount which can support a mobile phone holder, but also be used directly with supporting devices like a DSLR or even a projector. Having a camera tripod mount and a projector stand both in one is so helpful around the office, especially for practical demos during product presentations (Speaking for us here at Daffodil).
3. Desk Lamp with Bluetooth Speaker
It was a little bit of a joke for a while in the late 2000's that "everything has Bluetooth". From speakers to phones to toilets to wristbands and cars. One way the Bluetooth boom has met with other tech is the Bluetooth speaker lamp. An LED Bluetooth speaker makes for a convenient, space-saving solution to two problems at once.
Light and visibility at a desk are paramount when working an office job, particularly if you are the same desk all day. It's all too easy to miss the light getting lost over time as the weather changes and we end up straining our eyes unnecessarily.
A small table lamp with Bluetooth lets you hear alarms and reminders clearly without needing to have a headset on all day, and provides an adjustable level of light to help make your workplace as pleasant to use as possible.
4. Bluetooth aptX Headphones with NFC
If you want your music and reminders to be private, rather than public, then an office headset is the best way to go. Make sure you prioritise long-term comfort as you might well be wearing a wireless headset for office work multiple hours at a time.
The best Teams headset we almost exclusively use is the EP650. The padding is over-ear so we can work in privacy and comfort, and the bass (At least the way I set my custom EQ's in the app) can be felt in my shoulders!
The convenience of a headset is, of course, the integrated mic. Being able to change from working on writing this to taking a meeting with a company partner without switching desk or headphones is great.
The other benefit is the EP650 Bluetooth office headset supports NFC. NFC is explained here for those who are wondering if that's just better Bluetooth or something else entirely. The snappy NFC connection makes taking lunch breaks or heading out the office a second stress-free.
5. Flexible USB Power LED Light
If you need to save even more desk real-estate than the Bluetooth lamp then an LED dongle might be for you. These are simple LED strips that plug in to your computer or charging pack USB ports, and shine a tight spread of clear light.
Best used to illuminate keyboards and as a reading light, they are seamlessly part of your set-up with 0 desk space taken. The flexible material and rubberised design makes the desktop light a must-have for offices with adjustable hours or traditional, non-backlit keyboards.
6. USB Port Hub
A USB port hub connects to your work PC and extends the functionality greatly. We have a few that are just for more USB ports, but the unique one is the HUB05 which features multiple different connection types all added to your office PC.
The box features an SD card reader usb-C to usb hub and HDMI pass through for HDMI 4K.
Between reading and writing data, expanding connectivity and charging devices the HUB05 is a pretty comprehensive USB multiport adapter. Similarly to the USB LED light, this small office gadget takes up minimal space as it hangs from a USB port.
7. An Air Mouse + Laser Pointer
For presentations, trips to conferences, working abroad or even just an office meeting an Air Mouse gives you the freedom to give the presentation that you really want to give. It also lets you play around with the gyroscope controls as you learn the ropes which is always a good time in the office!
On a more serious note, an air mouse lets you have full cursor control of your PC remotely, even without a surface. Unlike a wireless or Bluetooth mouse, an Air Mouse doesn't need a point of contact and works in just your hand.
We particularly enjoyed being able to dynamically search for topical YouTube videos in real time, on the fly, during a brainstorm. This amount of remote control without someone having to "man" the PC for the whole session makes brainstorming way more productive, and more free-flowing.
Organise Your Workspace With Our Home and Office products